Current Builds
Habitat DC-NOVA currently has nearly 70 homes in our construction pipeline for the next five years and beyond. Below you can learn more about our active build sites, our upcoming projects, and our building history across DC and Northern Virginia.
For questions about our projects, please contact us at development@habitatdcnova.org.
Active Build Sites | Upcoming Projects | Building History Map
Active Build Sites
Groveton Street
Location: Groveton Street, Alexandria, VA
Project Dates: Spring 2022-2023
Specs: Three 4bd/2ba single family homes
Additional features: Solar panels, accessibility features
Habitat DC-NOVA currently has three homes under construction in Alexandria, VA. These single-family homes each consist of four bedrooms to accommodate larger families and will be the largest homes Habitat DC-NOVA has built to date. The homes are constructed to EarthCraft Gold standards and include solar panels. The Groveton Street homes also feature accessibility standards that can accommodate residents to safely age in place. These will be the first Habitat homes to be included in the Virginia Statewide Community Land Trust (VSCLT), of which Habitat DC-NOVA is a founding member.
---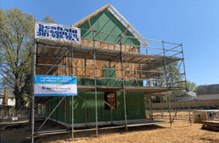 The Towns at Skyland Terrace
Location: Skyland Terrace SE, Ward 8, District of Columbia
Project Dates: Summer 2022-2023
Specs: Eight 3bd/2.5ba townhomes
Additional features: basements
The Skyland neighborhood of Southeast DC was home to Habitat DC-NOVA's first large-scale development project. Beginning in 1995, we built 34 townhomes in Skyland Terrace. In 2021 we returned to Skyland to build an additional 8 townhomes that will be sold affordable to low-income families of up to 6 people. These homes are currently under construction and will be built to Enterprise Green Communities certification.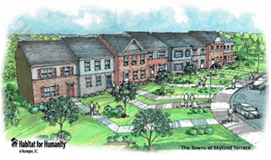 ---
Upcoming Projects
Deanwood
Location: 55th St NE, District of Columbia
Project Dates: Est. start of 2023
Specs: 17 3bd/2ba townhome duplexes
Habitat DC-NOVA has deep ties to the Deanwood neighborhood of Northeast DC. We began building in Deanwood in 2004, completing a total of 61 homes in the neighborhood to date. Deanwood is also home to the first two Passive Houses that DC constructed, the first of their kind in the District. Our upcoming project at 55th St NE will allow us to return to the neighborhood, adding an additional 17 affordable townhomes for local families.
---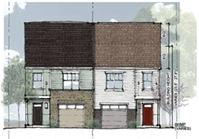 Reeves Farmhouse
Location: Arlington, VA
Project Dates: TBD
Specs: 4-5 dormitory apartments with common living space
In partnership with L'Arche of Greater Washington, HomeAid National Capital Region, and Arlington County, Habitat DC-NOVA will redevelop the historic Reevesland Farmhouse to accommodate adults with intellectual disabilities and their caregivers. A new historically compatible wing will be added to accommodate 5-6 residents and 1-2 caregivers, and the existing farmhouse will be restored and renovated to meet the needs of the residents.
---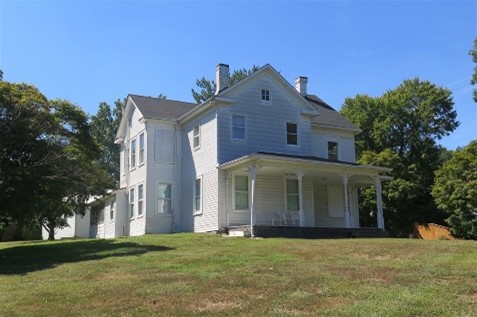 Glebe View Townhouses
Location: 10723 Main Street, Fairfax, VA
Project Dates: TBD
Specs: Ten 3bd/2ba townhomes
Additional features: solar panels, 2 units for transitional housing partnership
Habitat DC-NOVA has joined a partnership with Fairfax Presbyterian Church (FPC), HomeAid National Capital Region, and HomeStretch to build redevelop a portion of the church's parking lot into ten townhomes. FPC will provide the land through a long-term ground lease, HomeAid will provide no- to low-cost site work and materials, and Habitat DC-NOVA will be the primary builder. Eight of the townhomes will be sold affordably to families with low incomes through the Habitat homeownership program, and two homes will be sold to HomeStretch. HomeStretch will use the two units for their Sacred Homes program supporting families transitioning out of homelessness. The homes will be built to EarthCraft Gold standards and will have solar panels.
---

Lebanon Village at Langston-Slater
Location: 43 P St NW, District of Columbia
Project Dates: Est. start of 2024
Specs: Twelve townhomes, mix of 2-3bedroom
Habitat DC-NOVA is part of a development team who won a competitive RFP to redevelop the historic Langston and Slater schools into mixed-type, mixed-income housing. In partnership with Douglass Community Land Trust, we will build 12 for-sale units, five of which will be sold at market rate to cross-subsidize sales to families at 50% and 60% MFI. The 12 units will be a mix of 2- and 3-bedrooms.
---
Building History Map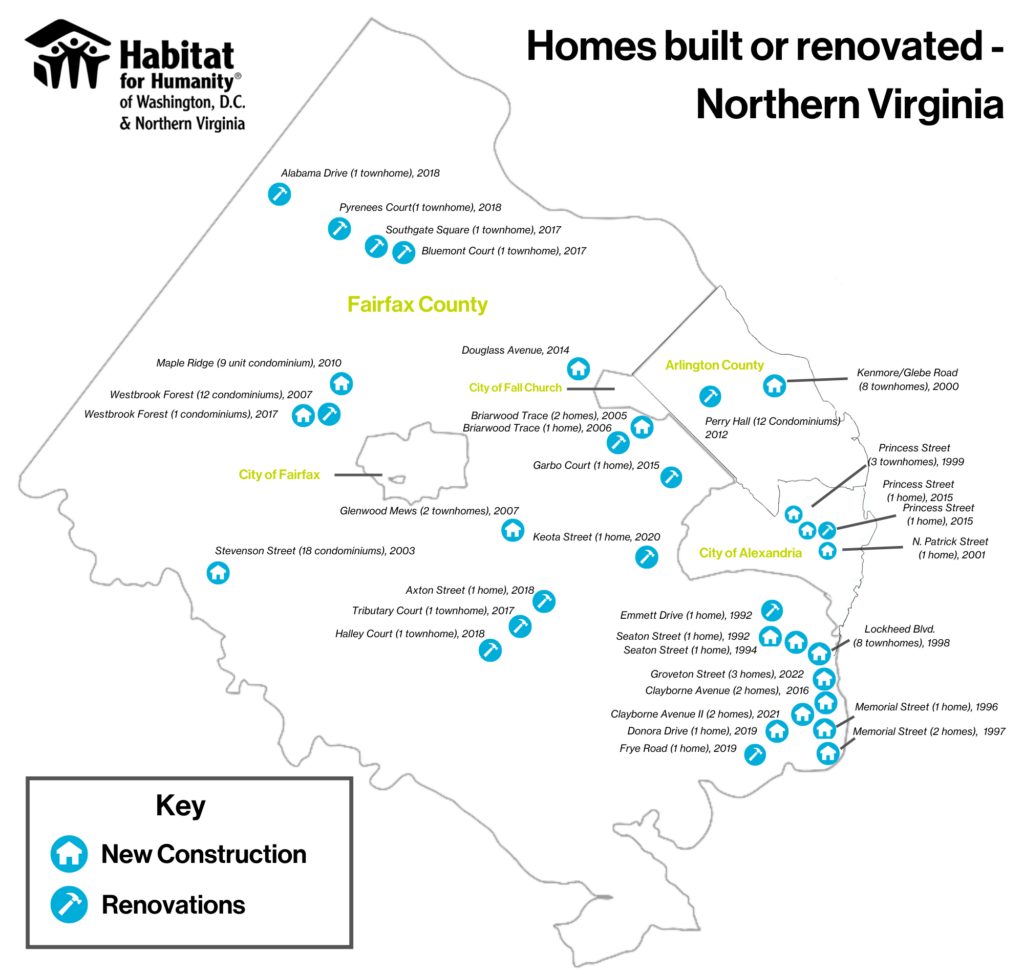 ---
Homes built in Washington, D.C.