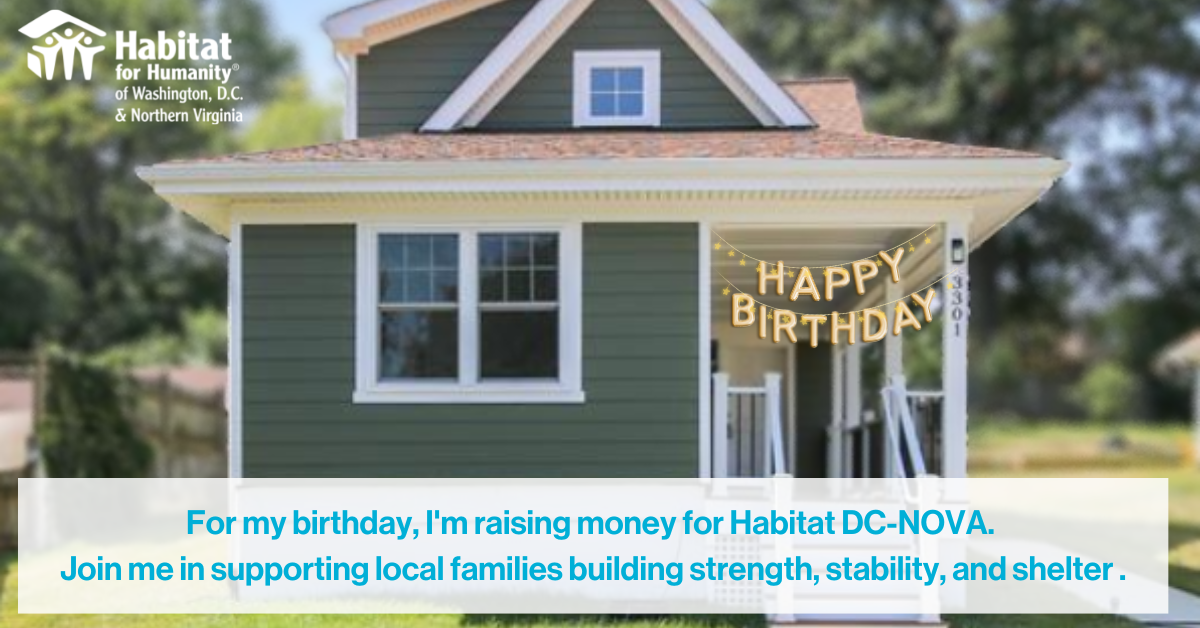 Facebook fundraisers are a great way to support a non-profit that you care about while asking your family and friends to make a donation in honor of you!
Follow the steps below to set up a birthday fundraiser for Habitat DC-NOVA on Facebook. If you would like to set up a fundraiser and want to use a different platform, check out our fundraiser page where you can set up your own page and send it to your friends and family.
If you are hosting a fundraiser, we'd love to hear from you. Please email development@habitatnova.org so we can say thank you!
Create your birthday fundraiser:
When you start a nonprofit fundraiser on Facebook, we cover all processing fees for donations.
On your computer, login to Facebook.
Under "Let's start with the basics," enter:

The name of the nonprofit you're raising money for
How much you want to raise
The currency you want donations to be in
The date you want the fundraiser to end

Click Next.
Under "Tell your story," enter:

A title for your fundraiser
A brief explanation for why you wanted to create this fundraiser

Click Next.
Under "Pick a cover photo," choose one of the suggested photos.
Click Create.
A message will pop up that congratulates you on creating your fundraiser. From there, you can invite your friends to donate, share your fundraiser in your Feed, or donate to the fundraiser yourself.
Helpful information for your fundraiser:
What we do: Habitat for Humanity of Washington, D.C. & Northern Virginia (Habitat DC-NOVA) believes that everyone deserves a safe, decent place to live. We work to break down barriers to homeownership and help families create stability and intergenerational wealth through permanent housing.
Why donate? Your tax-deductible donation is a critical part of Habitat DC-NOVA's ability to provide decent, affordable homeownership opportunities in which families and communities can thrive. Every donation is used responsibly to support programs, serve families, and build safe homes and neighborhoods in the DC metro area. By giving to Habitat DC-NOVA, you are not only making a difference in one family's life, you are investing in our community and making it a better place to live.
Add your own image or here is one that you can use for your facebook fundraiser (download image)