Home Repair
Across our region there are families who cannot afford to make repairs to issues in their homes that threaten their health and safety. There are seniors and older adults who don't have the money to install ramps, handrails, and make modifications that would allow them to safely remain in their homes and maintain their independence.
Habitat DC-NOVA is proud to partner with local community organizations, businesses, and government agencies to provide critical home repair and aging in place services to residents in the District of Columbia and Northern Virginia. We partner with organizations that provide an in-home functionality assessment done by a licensed therapist to best determine residents' repair needs. By helping individuals who cannot afford these modifications, we're making their homes safe and healthy so they can continue living and thriving in their own homes and communities.
We partner with different agencies to provide home repairs across the District and Northern Virginia. Please read our program guidelines below to determine which program best suits you depending on where you live.
For general questions about our home repair program, please contact Emma Hollandsworth, Home Repair Superintendent, at homerepairprogram@habitatdcnova.org or (202) 882-4600.
For DC Residents: Safe At Home Program
For DC residents, we partner with the Safe at Home program, administered by the DC Department on Aging and Community Living (DACL) and the nonprofit organization Home Care Partners. This program provides low-income seniors and adults with disabilities with accessibility modifications to reduce the risk of falls, such as:
Handrails
Grab bars
Bathtub cuts
Shower seats
Furniture risers
Chair lifts
PROGRAM ELIGIBILITY: The Safe at Home program serves District residents age 60+ and adults with disabilities age 18+. Homeowners or renters of a property used as a primary residence in the District of Columbia who wish to apply should have an annual household income at or below 80% of the DC area's Median Family Income (MFI).
HOW TO APPLY: Call (202) 724-5626 to learn how to apply today.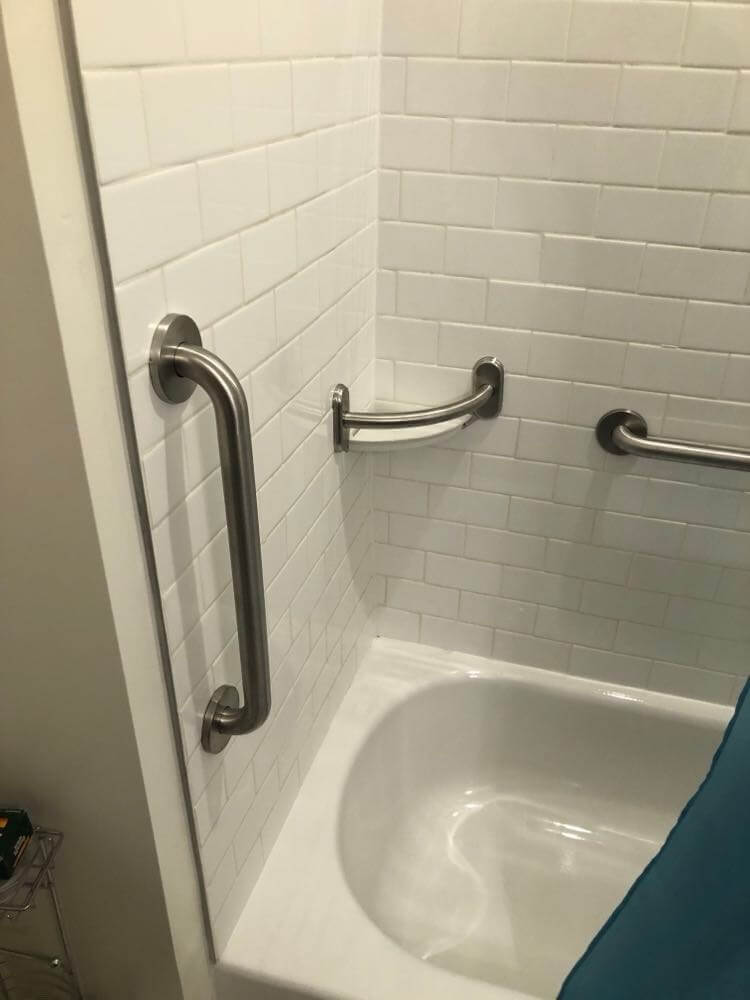 For Northern Virginia Residents
For Northern Virginia residents, we partner with TruBlue Total House Care to provide repairs to seniors with low-incomes to enable them to safely age in place or address other hazards in their homes. Working with Habitat DC-NOVA, TruBlue provides an in-home senior safety assessment and completes necessary repairs up to $2,500.
Deck Repairs, Deck Board Replacement, and Fence Repairs
Cabinetry Installation
Storm Door or Screen Door Installation
Interior Door Replacement or Installation (Does not include door widening)
Grab Bar Installation
Replacement Thresholds
Fans and Lighting Replacement Only (Does not include new wiring)
Bathroom and Kitchen Faucet Replacement
Toilet Replacement
Vanity Replacements
PROGRAM ELIGIBILITY: Applicant must live in Arlington County, Fairfax County, City of Alexandria, City of Fairfax, or City of Falls Church. Interested households should have an income at or below 60% of the Northern Virginia area's Median Family Income (MFI). 
HOW TO APPLY: Please contact homerepairprogram@habitatdcnova.org for additional information.